Pregnancy is not a verdict for intimate life, just a reason to practice new ways of intimacy. We'll tell how to please yourself and your sweetheart.
Being pregnant starts a new period of relationship and gives challenges for sexual life. You won't ask recommendations from gynecologists and you friends' experience is usually quite poor. How to save intimacy? What to do if your partner wants you, but you can't do it? Here are some pieces of advice how to behave and stay happy during pregnancy.

The classical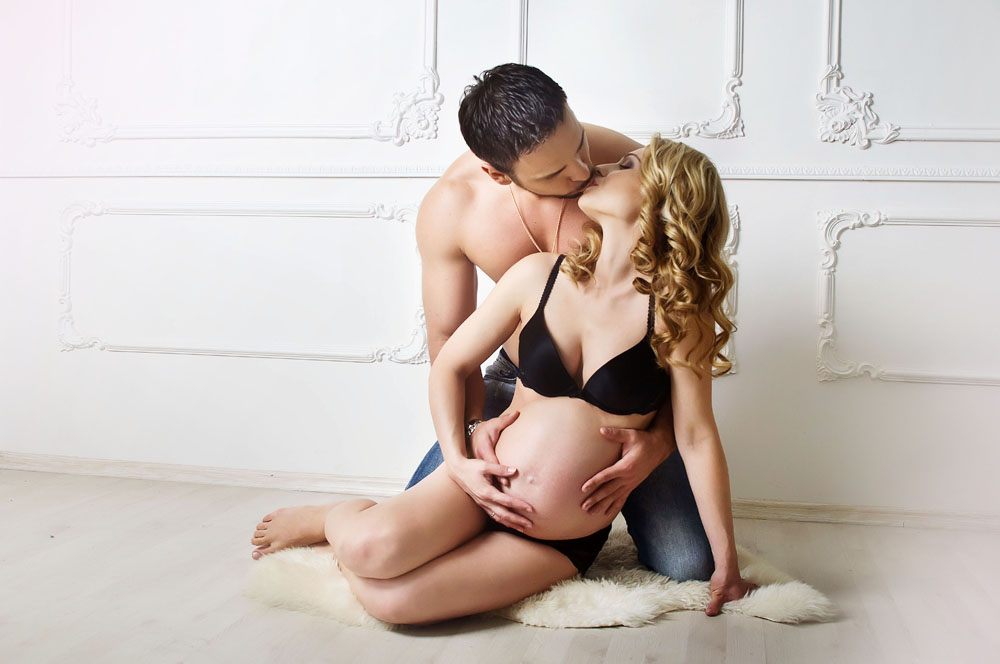 If doctor didn't prescribe sexual quietness, you don't have to forget about vaginal sex. Of course we don't talk about the first trimester, when finger examination is not recommended and women don't think about sex at all. But after 22nd week of pregnancy a golden age of pregnancy begins. Due to change of hormonal background sex during this period is not only desirable but also can be really great and orgasmic. Moreover in the end the 3d trimester doctors recommend to have it for pleasure and for starting pregnancy activity.
As a rule, by the 2nd trimester a young mother has a belly, so one should be attentive while having sex. For vaginal sex a pose "spoon" is good (when you lie on your side and your partner enters from behind). Also doggy-style can be practiced but carefully, because depending on the term and individual nuances it can be painful.
The classics again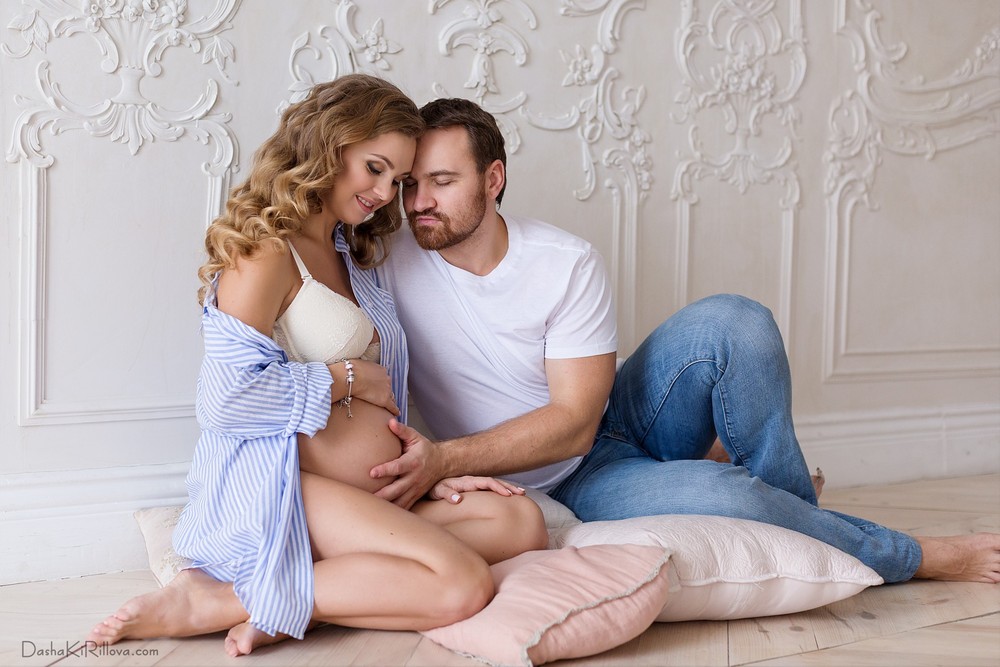 Oral sex is the most obvious, desirable and popular substitute of pleasure for men, when vaginal one is not possible.
Of course, if you don't have toxicosis, discomfort and other unpleasant things. Ideally you are so good at it, that your partner is really glad at such "maternity leave" sex menu. But you have to work at ideal. To make blowjob pleasant for both, basics are important: right head position provides necessary pressure of penis to palate so you can rule the process and pleasing your man. It's better to handle this knowledge beforehand, today there are special trainings like "Art of oral sex". Moreover you'll have to care not only about the process but also about your body comfort.
Making blowjob you can use oral oil or silicone lubricant. They will create better slipping and add tasty shades. These things are not allergic and secure for pregnant women.
Handjob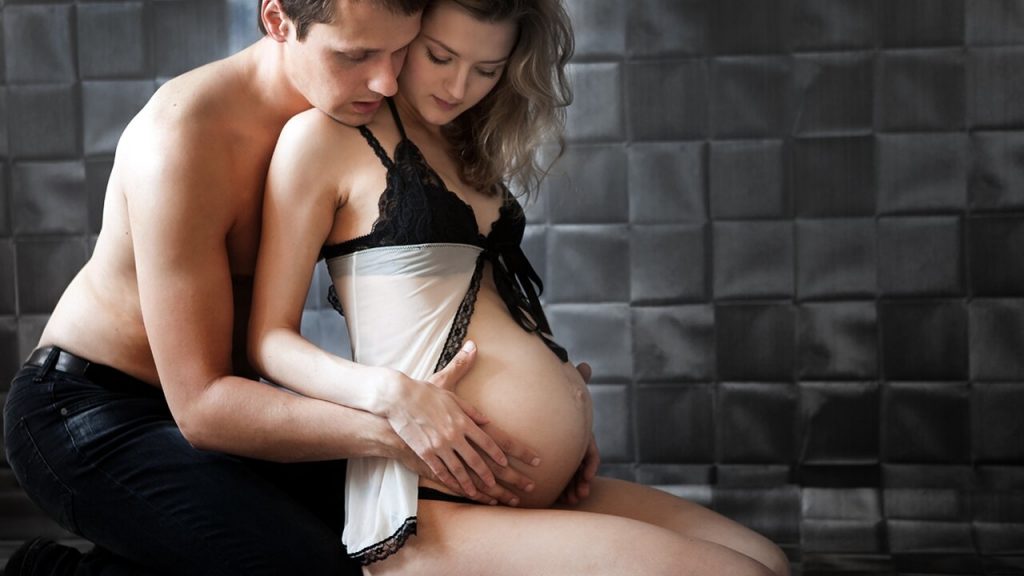 Manual technics also can give new pleasure to a man and new feelings. Also they convenient and don't have any obstacles, like vomiturition. Still manual sex has its own nuances. The first and the general one: use lubricant profusely, otherwise you man won't avoid uncomfortable feeling. The second: don't forget about stimulating the head of penis. And don't be shy to handle penis in a tight grip, creating a pleasant warmth and feeling of tight vagina.
All manual technics have the same principles. Stimulation with down pressure works for approximation of orgasm, with upper pressure for postponing it. All in all before doing it with your partner it's better to train with a dildo.
Toys
Contemporary sexual devices can fill all "sexual blanks" giving your man new shades of pleasure. Great thing for couples waiting for children is silicon stimulator Tenga 3D. If you support your hand work with it and your sweetheart feels all spectrum of feelings even if your skills are not very high.
Sweet hugs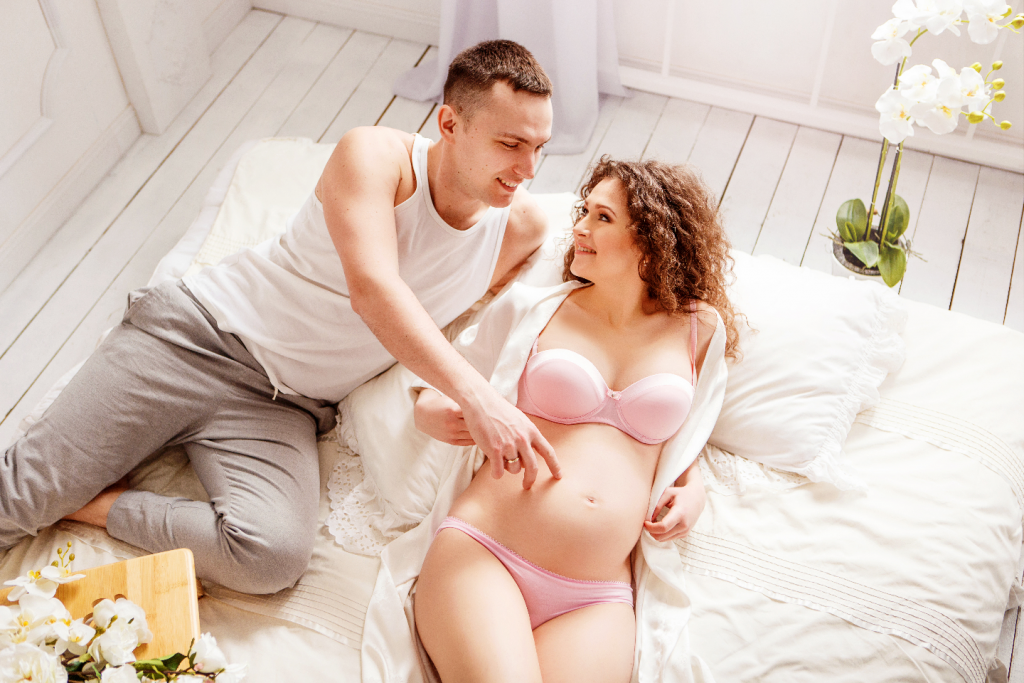 To give him pleasure it's not obligatory to have sex. You can make massage or just stroke him using oil with pheromones.
A change of environment can help to freshen up emotions. Some romantic play with feathers or fondling on vinyl sheet – everything what is not prohibited by doctors. And of course you can try on some outfits. Of course high-heels won't fit.
But if you become a beautiful pregnant cat with pasties and ears he will be happy as a child.